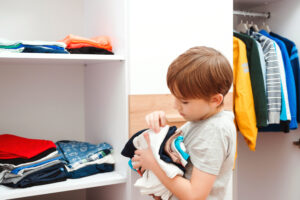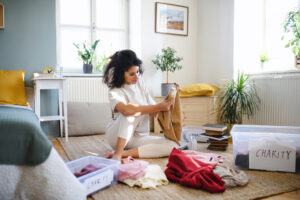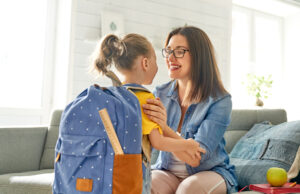 It is no easy task to transition from the easy days of the summer break back into the daily routine of the school year. Getting back on track requires organization and structure – especially when working from home and virtual classes are still a reality. While getting organized may seem like a lot to handle, there are small steps you can take now to ensure a smooth, stress-free transition to back to school. Our home decluttering experts at Breast Cancer Pickups have gathered the best tips that will ensure Day-1 of the school year is smooth sailing. 
1. Get the kids involved
It may seem like it's a lot easier to "do this yourself." However, teaching your children the importance of decluttering and having organized spaces is the first step for them to become mindful of the items they own. It takes a lot more time and patience to allow your children to be in the driver's seat of their space's organization, but after buy-in from the kiddos, you will have extra pairs of helping hands, which will make the job a lot quicker and easier. 
2. Tackle the wardrobes first
Kids outgrow their clothes very quickly. This is a great time to let them try on their clothes, see what fits and what doesn't, or what they haven't worn in a long time. We recommend tackling the wardrobes first because they feel like a big accomplishment rather than drawers that take a long time and can wear you out of decluttering very quickly. Also, it will be a big motivator to continue your purging. 
3. In with the new, out with the old
New school supplies for the year? Take the time to evaluate what is being replaced and get rid of the old stuff. There is no point in keeping items in your home just for the sake of it. Do not be afraid to get rid of old markers, pens, notebooks, and toys, because you and I both know that they will end up in the bottom of a drawer somewhere. 
4. Purge books that won't get reread
Did summer reading lists create a pile of books in your home? Time to purge the books that won't get reread or won't ever be read. Of course, you will want to keep some classics and favorites, but find a younger neighbor or family member and pass gently used books onto them or add them to your donation box!
5. Go rogue on junk drawers
We all have one, and we all know what they look like. The problem with junk drawers is that they tend to get messier a lot quicker than any other space in the home. Therefore, they should get extra attention when it's time to declutter. So, don't be afraid to let go of things that have been accumulating in it because they will regenerate somehow.
These three tips should get you a great head start for your back-to-school decluttering. Above all, focus on detaching from the things that no longer serve you a purpose. Finally, remember that Breast Cancer Pickups is always available for a home pickup when it comes time to donate your unwanted items. You can schedule a donation pickup online or call 1-888-233-0856. 
Your donations support screening, treatment, after-care, educational material, patient and family assistance, and information for breast cancer patients and their families. In addition, each year, through our thrift store relationships, we recycle tons of re-used items. We thank you for being an ally in the fight against breast cancer!