OUR MISSION
United Breast Cancer Foundation's mission is to make a positive difference in the lives of those affected by breast cancer. We aid in providing education and financial support for early detection breast screenings, treatment, and after-care. Your donation helps support breast cancer patients, survivors, and family members.
For breast cancer support services, go to UBCF.org.
Clothing and clothing accessories

Bedding, towels, linens, draperies, and rugs
Antiques, collectibles, and jewelry

Toys, bikes, CDs, DVDs, and books
Sign up to stay informed about how your donations are helping support breast cancer patients.
We will also send periodic reminders about our pickup service.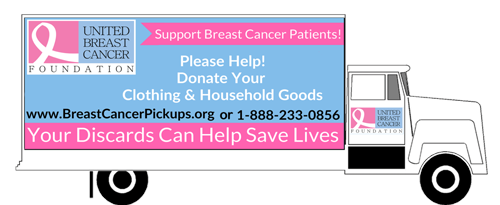 TRANSPARENT FINANCIALS
A copy of the latest financial report filed by the United Breast Cancer Foundation (UBCF) (Reg#: 20-23-89) with the New York State Office of the Attorney General may be obtained upon request from UBCF or the New York State Office of the Attorney General. Please submit any request in writing to UBCF P.O. Box 2421 Huntington, NY 11743 or to the New York State Charities Bureau, 120 Broadway, New York, NY 10271. For a description of UBCF's programs and activities submit a written request to UBCF. This solicitation is conducted by Gboys Inc. (NYS#: 46-46-38) a licensed professional fund raiser. 
*Please consult your accountant or tax professional.